What the heck is METAZOO?
What the heck is METAZOO?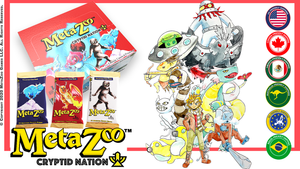 Hey guys, 
so Im seeing Metazoo boxes and PSA 10 SINGLES at all the card shows in the last couple months, and it got me scratching my head and wondering, what the heck is this? So I did some research and ... wow!!
Imagine getting in on Pokemon from the ground floor? Thats what Metazaoo is, its a trading card game similiar to Pokemon. Some people like to play the game, some like to collect, flip, and resell the card and boxes because the market on this is so volatile at the moment! Crazy card prices just look at these on eBay:
so as you can see, some of the pull from Metazoo products in a PSA 10 go for crazy amounts!!! It's not just the singles, but the wax boxes too go for crazy amounts look:
Theres also special cards called "SAMPLE CARDS", where they only made 100 of each one, look at the prices on these sample cards:
well, you get the point now.. so anyway, more about Metazoo.. 
Metazoo is a trading card game about CRYPTIDS. Its inaugiral set is called CRYPTID NATION. What is a cryptid you ask? A cryptid is an animal or monster that has been claimed to exist but never proven.. examples like Bigfoot come to mind.
Thats why this product is so popular, people love the card art for things like Bigfoot and Mothman.
Anyway, Metazoo cards are made by Topps and created by a guy named Michael Waddell, and started as a KICKSTARTER campaign in which they released their initial boxes called METAZOO CYPTID NATION KICKSTARTER 1ST EDITION NON ALTERNATING BOOSTER BOXES.
It took a year for these boxes to get from print into the hands of the people that purchased the pre orders and finally got delivered in spring of 2021. The boxes became very popular among gamers and collectors and with the popularity, METAZOO released a 1st edition Cryptid Nation booster box in August 2021 called METAZOO CRYPTID NATION 1ST EDITION BOOSTER BOXES. (note: the difference between this and the kickstarter version, is that the kickstarter version has a green K on the front and a "non alternating" sticker on the back and sells for over 10k per box).
KICKSTARTER 1ST EDITION BOXES with the K on the front and NON ALTERNATING sicker on the back:
NON KICKSTARTER EDITION BELOW:
After the release of the BOOSTER BOX in August 2021, Metazoo released a highly anticipated Booster Box called METAZOO NIGHTFALL BOOSTER BOXES right before Halloween 2021. Heres a picture of the Nightfall boxes:
The boxes glow in the dark and the EMPTY BOXES resell on eBay as seen here:
crazy huh?
There are a ton of chasers in this product and alot of surprises.. TO BE CONTINUED!
CLICK HERE FOR CHECKLIST (YOULL SEE 3 PRODUCTS AT THE TOP LEFT OF THE CHECKLIST, CNKS = Cryptid Nation Kickster Boxes, CN1E = Cryptid Nation 1st Edition, and NF1E = Nightfall 1st Edition)