2022 Topps Series 1 Baseball is here!
2022 Topps Series 1 Baseball is here!
The following is from Beckett.com:
2022 Topps Series 1 Baseball leads off a new year of cards in typical flagship fashion. That means a big checklist that covers a lot of ground. In recent years, much of this has been framed by some sort of theme — an anniversary, a particular part of the game, some sort of gemstone that looks nice.
For 2022, the overriding theme is "baseball." That's what holds the checklist together. It's a dive into the game's present stars, a new crop of rookies and a look back at some the sport's greats. For those who miss it, 1987 Topps Baseball is back as well.
2022 Topps Series 1 Baseball Checklist Overview
The 2022 Topps Series 1 Baseball base set is 330 cards, the same as the past couple of years. Traditional player cards make up the majority of the checklist but team cards, Future Stars and League Leaders are there as well. Shohei Ohtani leads things off following an off-season fan vote. This is his first time as the Topps Baseball #1 card.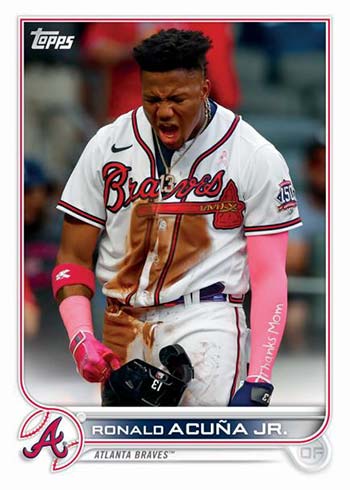 2022 Topps Series 1 Baseball has almost 50 Rookie Cards. Top names include Jarren Duran, Vidal Brujan and Reid Detmets.
And then there's the case of Wander Franco. All signs pointed to him having his first MLB base Rookie Card in 2022 Topps Series 1. However, because he's in the 2021 Bowman's Best base set, that's no longer the case going by traditional definitions. While he's still likely to be the top card in the set, it'll be cataloged as an (RC) for being a card with the rookie logo but his actual Rookie Cards coming in an earlier year.
This represents the first half of the larger 2022 Topps Baseball. So while plenty of stars are in it, some notable names might be missing here. They're likely to show up in Series 2, though.
Parallels include:
Rainbow Foil – 1:10 packs
Royal Blue – 1:10 retail packs
Gold Foil – 1:2 hobby jumbo packs
Gold – /2022
Green Foilboard – /499
Orange Foilboard – /299
Red Foilboard – /199
Vintage Stock – /99
Independence Day – /76
Black – /71
Father's Day Powder Blue – /50
Mother's Day Hot Pink – /50
Memorial Day Camo – /25
Printing Plates – 1/1
Platinum – 1/1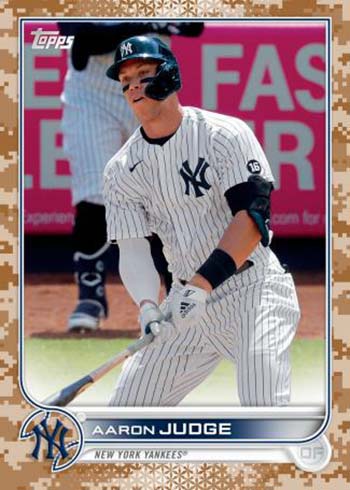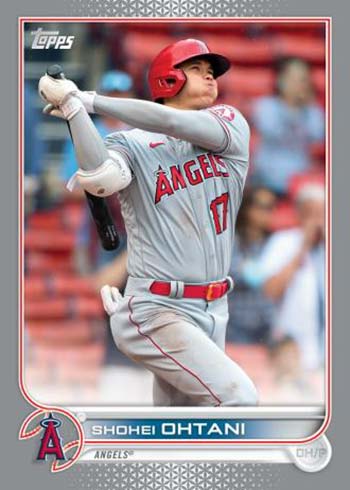 A total of 100 cards also have Clear versions printed on acetate. These are scarce with just ten copies each and are exclusive to regular hobby packs.
Nods to the Past
At this point, collectors should come to expect a certain amount of the past to be embedded in Topps' flagship lines. Nostalgia is a huge part of their brand and history runs deep in the game itself.
1987 Topps Baseball makes an appearance. Marking its 35th anniversary, it keeps in place an annual retrospective that keeps moving up a year. However, it wasn't that long ago that collectors saw a lot of the iconic woodgrain in a flagship baseball release. It was also used in 2017 for its 30th anniversary. But it was the following year, 2018, that the card maker settled on 35 years and starting with 1983 Topps and moving forward. So while an initial reaction might be, "1987, again?!?" it's also correcting a course.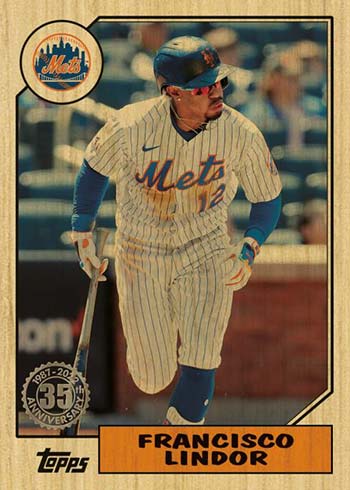 Parallels for the 1987 inserts include Blue, Black (/299), Gold (/75), Red (/10), Platinum (1/1) and Wood (1/1). The design is also used for on-card autographs and relics. Both of these have their own Black (/199), Gold (/50 or less), Red (/25 or less) and Platinum (1/1) parallels.
Keeping with the 1987 Topps theme are Future Stars Box Loaders. These are only in hobby jumbo boxes, landing one per. Autographs are numbered to 10 and under.
Generation Now is a nod to a more recent past. Based on a 2007 insert set, these highlight young players. With plans to continue in 2022 Topps Series 2 and Update Series, this is the first of three parts. When complete, the checklist will have 90 cards.
In addition to the base versions, there are Blue, Black (/299), Gold (/75), Red (/10) and Platinum (1/1) parallels. Some players also have autographs numbered to 10 or less.
Additional Inserts
2022 Topps Series 1 Baseball has several other insert sets.
2021's Greatest Hits isn't about walk-up songs. It's literally about hits — 20 of the most notable from the 2021 season.
Diamond Greats Die-Cuts use shaped cards as a way to focus on baseball's greats.
Also touching on past stars, as well as some current veterans, is Welcome to the Show. Photos on these baseball cards come from the player's rookie season.
Cleats get the spotlight — and a colorful one at that — in Flashiest Feet while middle-infield pairs get some attention in Turnin' Two.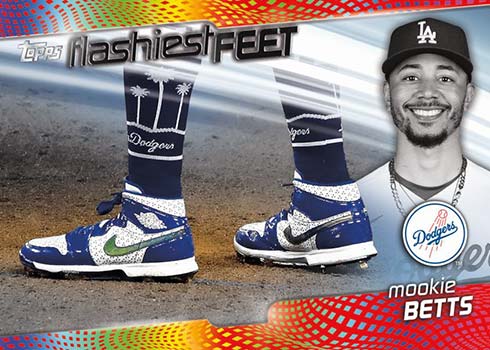 All five of these insert sets have five basic parallels: Blue, Black (/299), Gold (/75), Red (/10) and Platinum (1/1). Some cards also get the autograph treatment with none having more than ten copies.
With Mickey Mantle returning to Topps in 2021, it shouldn't come as a surprise that he gets some of the 2022 Topps Baseball spotlight. Salute to the Mick is a year-long set with cards in Series 1, Series 2 and Update Series. Each release has three different cards for nine total. According to Topps, these are "very rare."
A pair of manufactured relics are available on the hobby side of 2022 Topps Series 1, MLB Medallions and City Flag Patch. Both have Gold (/75), Red (/10) and Platinum (1/1) parallels along with autographs (/10 or less) for select cards. City Flag Patch also has Black (/299) versions.
Hobby and hobby jumbo packs are the only places to find Sketch Cards. These each have an original drawing or piece of artwork done on them. In turn, each is unique and considered to be a one-of-one.
2022 Topps Series 1 Baseball Retail Exclusives
In addition to the Royal Blue parallels, 2022 Topps Series 1 Baseball has some retail-exclusive insert sets.
Stars of MLB are one per retail pack, simply highlighting some of the best players in the game today. The first 30 are in Series 1 with additional installments planned for Series 2 and Update. Parallels include Red (/70), Black (/25) and Platinum (1/1). Stars of MLB Chrome make the set shiny. These are tougher at 1:10 retail packs and have their own Red Refractors (/70), Black Refractors (/25) and Superfractors (1/1).
Specially marked blaster-style value boxes each have one Player Jersey Number Medallion Commemorative Relic.
Autographs and Memorabilia Cards
Standalone autograph and memorabilia inserts use themes familiar to the Topps Baseball line.
Baseball Stars Autographs is an all-encompassing set showcasing baseball players and their signatures. Parallels come in Black (/99), Gold (/50), Red (/25) and Platinum (1/1). Dual Autographs can also be found, each numbered no higher than 5.
World Series Champion and Postseason Performance both return with a varied lineup of autographs (/50 or less), relics (/99 or less) and autographed memorabilia cards (/50 or less).
Topps Reverence (/10) returns, once again with on-card signatures joined by patch swatches. These have further Red (/5) and Platinum (1/1) parallels. Topps Reverence is exclusive to hobby and hobby jumbo.
Major League Material is similar to Baseball Stars Autographs in that its somewhat generic approach leaves open a lot of room to simply provide a spot for memorabilia. Parallels include Black (/199), Gold (/50 or less), Red (/25 or less) and Platinum (1/1). Major League Material Autographs have no more than 50 copies each.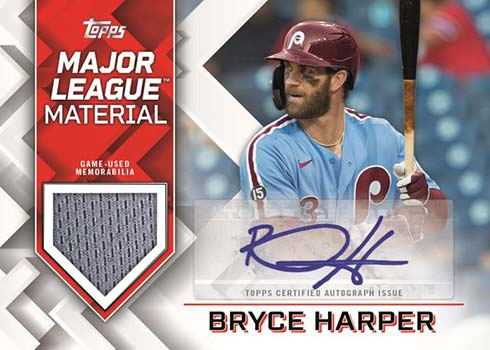 In the Name Relics are back with nameplate letters.
One-of-one Cut Signatures are also available.
Silver Packs
2022 Topps Series 1 Baseball hobby and hobby jumbo boxes come with bonus Silver packs once again. These packs come with exclusive Topps Chrome cards. If past years are any indication, they'll be based on the 1987 Topps Baseball inserts. Parallels and autographs will also be available in these.
Hobby boxes have one bonus pack inside while hobby jumbo come with two.
The Silver Pack program will continue in Series 2 and Update Series.
2022 Topps Series 1 Baseball cards at a glance:
Cards per pack: Hobby – 14, Hobby Jumbo – 46, Retail – 16, Blasters – 14, Hanger Box – 67, Fat Packs – 36
Packs per box: Hobby – 24, Hobby Jumbo – 10, Retail – 24, Blasters – 7, Hanger Box – 8, Fat Packs – 108
Boxes per case: Hobby – 12, Hobby Jumbo – 6, Retail – 12, Blasters – 40, Hanger Box – 8, Fat Packs – 1
Set size: 330 cards
Release date (subject to change): February 16, 2022
What to expect in a 2022 Topps Series 1 Baseball hobby box:
Autographs, Memorabilia Cards or Manufactured Relics – 1 Total
Rainbow Foil – 2
Bonus Silver Packs – 1
What to expect in a hobby jumbo box:
Autographs – 1
Memorabilia Cards or Manufactured Relics – 2
1987 Topps – 20
Gold Foil – 5
Oversized 1987 Topps Future Stars Box Loaders – 1
Bonus Silver Packs – 2